Welcome to Quahogs 5 News
22/03/2009 Fox-y Lady
After Rhonda Latimer(Fictional News Anchor played by Sharon Tay) gets kicked by Fox News after the HDTV exposes the fact she's unattractive, and a Job Opporunity pops up and Lois despite being told by Brian due to it being a Biased Network Meanwhile due to Lois being a News Anchor for 20th Century FOX Peter, Chris and Meg try to start a new show about Handicapped Ducks named "Handiquacks"
15/03/2009 the Juice is Loose
this takes Place according to the Intro Takes Place around March 2007 Before OJs Las Vegas Robbery.
After Stewie Gets stuck on the Roof trying to fix the TV Satellite while Peter was supposed to look after him, Peter attempts to fix it himself but instead finds a winning 1989 raffle ticket, which after years he forgot to cash in, winning him a chance to Play Golf with O.J Simpsons.
08/03/2009 Family Gay releases
after Buying a Retarded Horse instead of Groceries, he enters the Horse into a Horse Race and causes around $100,000 Worth of Damaged. after that the Horse dies of a Heart Attack and throws it off Mort Goldmans Pharmacy. in a Attempt to make Money Peter Griffin takes a job as a Test Subject for Gene Experiments and gets injected with many Genes including a Gene that makes him Gay.
15/02/2009 Family Guy Returns
Family Guy returns to Fox with a new episode tonight at 9pm. Ocean's Three and a Half features the voice of Jennifer Tilly as Joe's wife Bonnie, who finally gives birth to baby Susie after her seven year pregnancy! Stewie quickly falls for the little tyke and vows to do anything to win her heart and get in her diaper.
14/02/2009 New Episode Tomorrow
Family Guy is back on Fox with a new episode tomorrow night at 9pm ET, Ocean's Three and a Half. FOX has released a few clips of the episode on their youtube channel Fox Broadcasting
31/01/2009 Family Guy 10th Anniversary!
Ten years ago on January 31st 1999, FOX premiered the show "Family Guy" with the episode Death has a Shadow after Super Bowl XXXIII. a Decade Later, the Show has gained a huge following with it surviving two cancellations, releasing one Direct to Video film, Doing a Few Crossover episodes with Star Wars, releasing Two Spinoffs(with one currently in the works) and like Simpsons before it, making a another successful TV shows for the brilliant people at FOX.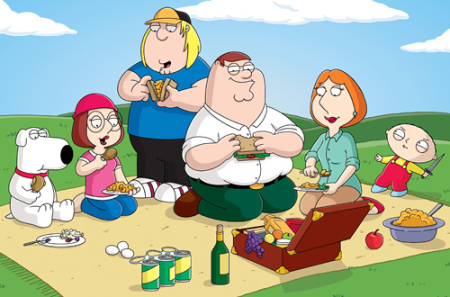 16/11/2008 Tales of a Third Grade Nothing has been released
Peter, bored at work, decides to go into the executive bathroom. When he enters the bathroom, he becomes motivated to do well at work so that can become an executive. He tries various things to impress his boss Angela, such as dressing in a suit and cleaning his office, but creates much havoc, such as accidentally blowing up a children's hospital; nevertheless, Angela is impressed by his improvement at work and recommends an open executive spot for him. When he goes to HR to get his promotion, he is told that he must complete the third grade to do qualify. At school, Peter competes with class genius Omar to win the spelling bee because he is required to win in order to pass the third grade. Peter wins by correctly spelling "lesbians" and is finally able to graduate. But when he goes back to work to get his promotion, he is told by Angela that he is getting arrested because of his children's hospital explosion, implying he won't be promoted. Fortunately, he only receives one week in prison, and will be released the following Sunday night at 9:00 which is the time and date the show is broadcast each week. Meanwhile, Frank Sinatra, Jr. comes back to town to perform with Brian at the Quahog Cabana Club, buying the establishment together to boost business. The two are disappointed when they learn from Stewie that people just don't want to go to big band clubs anymore. They leave an improvement of the Cabana Club to Stewie, who creates a modern dance club called pLace. At first, Frank and Brian feel uncomfortable and out of place, but their feelings change once they get into the club life themselves. However, the club immediately loses a well-established reputation once the party is crashed by Andy Dick.
10/11/2008 Season 7 DVD Has Been Released to the UK Audiences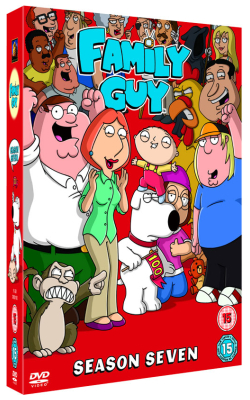 This three disc set will include the remaining episodes of Season 5 and the first seven episodes of Season 6, excluding Blue Harvest (No Meals on Wheels - McStroke). Special Features include commentary on every episode, storyboards/animatics, deleted scenes, featurettes, and optional censored audio. It also includes the Family Guy 100th episode special.
9/11/2008 The Man with Two Brians has been released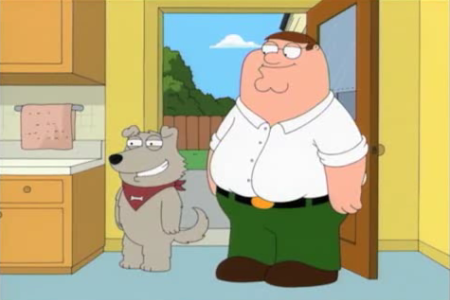 After watching Jackass, Peter and his friends decide to film their own highly dangerous stunts just like the show. In one stunt, Peter attempts to jump a lake in his Greatest American Hero costume but instead lands into a tree, breaking his arm and falling into the lake. Brian swims out to save him from drowning, but hurts his back, so Joe saves them both. Back at home, an enraged Lois chastises Peter for causing Brian's condition, since he is getting old (56 in dog years) and would not be able to handle trying to save Peter's life like that. Peter begins to grow upset about Brian's age, so he gets another dog named "New Brian." Brian begins to feel insecure around New Brian, who is specially trained to make the Griffins feel better about themselves, though he accepts that New Brian is not such a bad guy. Stewie, however, warns Brian that New Brian will soon replace him in the Griffins' lives. Refusing to believe this, but not wanting to take any risks, Brian decides to show the family a set of home movies about when he was a puppy. The family is only attracted to New Brian sleeping and not Brian as a puppy; they laugh when New Brian farts in his sleep, but get offended when Brian does it for attention. Conceding that he has been replaced, Brian announces that he is moving out. The Griffins suddenly feel surprised by this news, especially Peter and Lois, showing he is still important to them, but respect Brian's decision to leave. Brian does not move far away, staying at both Cleveland's and later Quagmire's house. New Brian continues to cheer up the Griffins about Brian's absence; all except for Stewie, who is agitated by New Brian's constant happy-go-lucky attitude. He pleads for Brian to return, but Brian says that he cannot as long as New Brian is there. Stewie decides to tell New Brian that the Griffins want him to leave, claiming that they did not like how he humped the leg of one of their chairs. New Brian admits that he actually humped Rupert, Stewie's favorite teddy bear, and gloats about it. Stewie at first appears unfazed, but it is later revealed that Stewie brutally killed New Brian and left a fake suicide note, which the family believed. Although stunned and confused about this, the Griffins happily accept Brian back, prompting Peter to never try and replace him again. When Peter sees and becomes completely fascinated with a talking hamster, Brian gives Peter permission to keep it.
2/11/2008 Baby not on Board has been released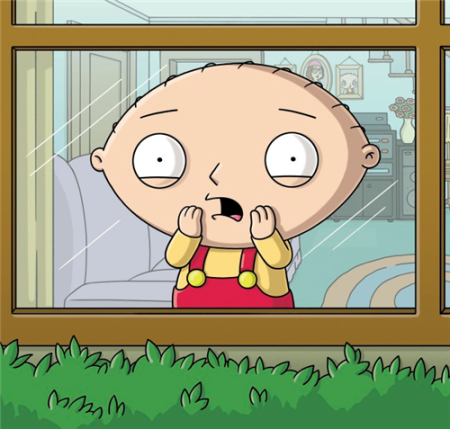 Peter wins a year of unlimited gas, and Brian suggests that the family use the funds to take a road trip to the Grand Canyon. So the Griffins pack up the car and hit the road, but leave some very precious cargo at home. When the family finally realizes that they have left behind one of their own, it's a mad, explosive, hilarious dash back to Quahog on the "Baby Not On Board" episode of FAMILY GUY
20/10/2008 UK: "Peter Griffin: Best Bits Exposed" and "Stewie Griffin: Best Bits Exposed" have been released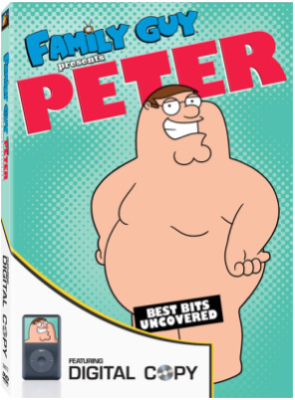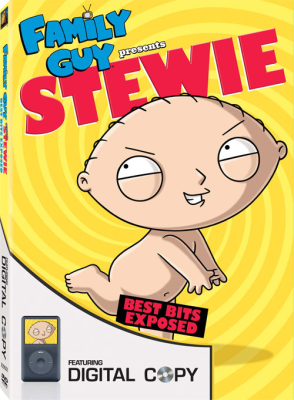 This Week Two Family Guy Compilations have been released. The two 2-disc sets include digital copies of the episodes and free ringtones for mobile phones. Stewie Griffin: Best Bits Exposed includes Chitty Chitty Death Bang, The Tan Aquatic with Steve Zissou, Stewie Loves Lois and The Courtship of Stewie's Father. Peter Griffin: Best Bits Uncovered will include Let's go to the Hop, E.Peterbus Unum, Mr.Griffin goes to Washington and PTV.
19/10/2008 Road to Germany has been released
While watching the Academy Awards at the Griffins' house, Mort needs to use the bathroom badly. Since it is already occupied (by Meg, who is being filmed by Quagmire), Mort runs into Stewie's room and finds a booth that appears to be an indoor outhouse, but when he steps into it, a blinding light flies out of the door and he is heard screaming. An hour passes and the others grow concerned, so Brian goes upstairs to check on him. Stewie comes in and sees that the booth, which turns out to be a time machine, has been activated and, with the help of Rick Moranis, backed by a doo-wop girl group, they deduce that he was sent back in time. Since Mort needs the return pad, a device that will send the user back to the present, and that it is in Stewie's possession, Stewie and Brian decide to go back in time to bring Mort back.
06/10/2008 I Dream of Jesus has been released
When Peter re-discovers his love for the tune "Surfin' Bird", Brian and Stewie decide to take matters into their own hands to ensure that the song will never be heard again. Determined to listen to that song, Peter goes to every record store in Quahog to track down his beloved jingle, when he runs into a familiar face, Jesus Christ. Peter and Jesus soon become friends.
28/09/2008 The First Episode of Season 7 has been released!!!!!
Love Blactually has been released on September 28th 2008!!! below is the plot from Wikipedia!
Brian has been growing concerned that he may never meet a woman who doesn't drive him crazy until he meets a woman named Carolyn to whom he feels a great connection. The two begin dating and things seem to be looking up for the two, but when Carolyn invites Brian in for the night after a date, Stewie stops them. Stewie explains that Brian always rushes into his relationships too quickly, and that is why he can never maintain them. Brian agrees and begins following Stewie's advice of taking things slow, with Stewie eavesdropping all the way. Three weeks pass and the two decide it's finally time to take things to the next level, but when he goes to Carolyn's apartment, he catches her making love in her car with Cleveland. Carolyn denies Brian's claims that he is her boyfriend because she had assumed Brian just wanted to be friends with her. Brian does everything he can to move on from this, but he just keeps running in to Cleveland and Carolyn making love everywhere, even in the middle of a baseball field on live television, thus unintentionally rubbing it in. Stewie comes up with a solution: Brian should go to Cleveland's ex-wife, Loretta, and convince her that she still loves him, while Brian win back Carolyn for herself. Loretta, as it turns out, feels guilty for when she cheated on him with Quagmire, and meets Cleveland, who is planning to elope with Carolyn in Hawaii, so the two can patch things up. Cleveland turns to the Griffins for advice on whether or he should take Loretta back. Peter and Lois are uncertain as Loretta's affair was unforgivable, but Brian seems to encourage it. Becoming rather suspicious of Brian, Peter convinces Quagmire to advance on Loretta in her hotel room for Cleveland to walk in on, but Loretta kicks Quagmire out of the room in time. Loretta wants to start a new life with Cleveland, but he says that while he will always have a place in his heart for her, he has to move on with his own, and advises Loretta to do the same. He goes to Carolyn's apartment when he sees Carolyn making love with someone outside in her car... But the culprit turns out to be Quagmire instead of Brian; it seems that Brian had bailed out of the plan entirely. Since Brian and Cleveland have been cheated on by the same woman, they remain friends.
Announcement for Season 7!
The Season 7 list has been announced(not in order tho)and a explaination for some!
"Love Blactually
Special guest voices include Kat Foster as Brian's new girlfriend Carolyn and Meredith Baxter in a voice cameo as herself. This episode is expected to have Brian and Cleveland falling for the same woman, and is set to mark the first appearance of Loretta Brown, Cleveland's ex-wife, since the season 4 episode "The Cleveland-Loretta Quagmire."
"The Former Life of Brian"
"I Dream of Jesus"
"Long John Peter"
"Baby Not On Board"
"Road to Germany"
This is the series' fourth road trip episode featuring Stewie and Brian, following "Road to Rhode Island," "Road to Europe," and "Road to Rupert." Stewie and Brian are expected to travel back in time to Nazi Germany to rescue Mort Goldman.
"The Man With Two Brians"
"Tales of a Third Grade Nothing"
"Ocean's Three and a Half"
"Family Gay"
Peter is injected with the gay gene as part of a scientific experiment to determine whether or not it's a learned trait or something that you're born with. The good news is that at the end of the episode we establish that it's the latter. Basically, Peter's in a gay relationship for an episode and winds up in one of those straight camps."
"The Juice Is Loose!"
"Anchorwoman: The Legend of Lois Griffin"
"Three Kings"
It is expected to be a three-segment episode, with each segment parodying a Stephen King novel. One segment is expected to parody the novel Misery featuring Stewie and Brian as the main characters.
"Episode 420"
"Not All Dogs Go To Heaven"
"Something, Something, Something Dark Side"
The story of Star Wars Episode V: The Empire Strikes Back is retold.
Credits to Wikipedia, PlanetFamilyGuy(For some of the Articles) and QuahogNews.com for the "Quahog 5" image